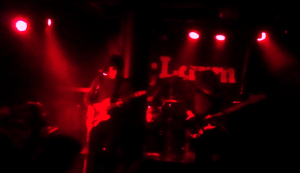 (click mp3 links to listen. Right-click to save)
This week, I attended the By:Larm festival in Oslo, Norway, which ran from Thursday through Saturday. By:Larm is mainly an event for music industry insiders, being a conference at daytime and a festival with mini-concerts by night. The latter is however open to the general public, and gives music fans like me a unique chance to experience a ton of shows by interesting
artists that are on the verge of success, either in their homelands or internationally
(to quote
By:Larm's website
). In the next few days, I'll try to write about some of the great Nordic bands (Norwegian and Icelandic) that I saw!
In my opinion, one of the definite highlights of the festival was Thursday night's performance by the Bergen synthpop quartet The New Wine. I wrote about these guys (more or less) exactly
a year ago
, and was excited to finally see this promising new band live. In the course of 30 minutes (that's all the time they were allocated), they managed to make the whole crowd dance in unison to their addictive and funky synth- and guitar based dance music.
Bridge
, from their EP with the same name, was especially memorable.
The band is said to be inspired by Nintendo composer Koji Kondo and fellow Bergen musician Erlend Øye's band The Whitest Boy Alive, and the result is a very catchy and playful blend of lush guitars and geeky retro/chipcore-esque bleeps and bloops. Their music also reminds me a lot of the early days of French indie stars Phoenix, more specifically their very funk and dance influenced debut
United
. Listen to Phoenix' classic
If I Ever Feel Better
and see if you agree.
Similarly to The Whitest Boy Alive, the main quest of The New Wine at any concert is to make the crowd have fun and dance, and covering very digital house tunes with analogue instruments is one way of reaching that goal. At their 08-09 tour, The New Wine did an awesome cover version of one my favorite house tracks from recent years,
Fred Falke's amazing remix of The Whitest Boy Alive's Golden Cage
. Check out
this very cool Youtube video
, where Mr. Øye (vocalist of the Whitest Boy Alive) himself joined the boys on stage and did the vocals for the cover version of the remix of his own song (I know, confusing).
I expect these young and talented musicians to very soon fill dancefloors around the world in the same way their (ten year older) idols in Phoenix and Whitest Boy Alive are doing now, and I for one will continue to follow The New Wine closely - gentlemen, please release a debut album NOW!