In my opinion, three of 2007's very best and most memorable albums were Arcade Fire's
Neon Bible
, Panda Bear's
Person Pitch
and Klaxons
Myths of the near Future
. All three generated absolutely massive hype, and harvested top scores from record reviewers and/or prizes. Since then, however, it's been been quiet around these three artists. (Well, in Panda Bear's case it's just been the 'Panda Bear project' that's been quiet, as his band Animal Collective have almost constantly been in the spotlight, and enjoyed endless amounts of attention)
Now, the follow-up albums are finally on their way! I got my hands on leaked tracks by all three artists this week, and they're all very promising sounding. I think it's going to be a great autumn for alternative music!
//// New Arcade Fire: The Suburbs and Month of May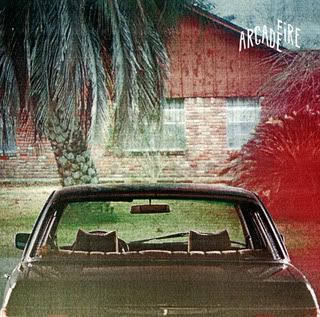 mp3:
Arcade Fire - The Suburbs
mp3:
Arcade Fire - Month of May
While
Funeral
balanced between the down-to-earth and the loud and pompous,
Neon Bible
mostly stayed within the latter style, filled to the brim with dramatic church organs and anthemic choruses. If these first two tracks are anything to go by,
The Suburbs
takes a step down again: 'The Suburbs' is slow, unpretentious and beautiful, while 'Month of May' in my opinion sounds like the most straight-forward rock and roll track Arcade Fire have ever recorded - in a good way!
The Suburbs
is out August 2 in Europe and August 3 in the US.
---
//// New Klaxons: Flashover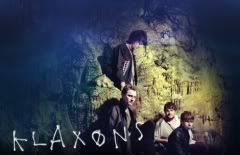 Klaxons - Flashover
(
alternate link
)
This sounds like the darker moments of
Myths of the Near Future
, and I love it. Nothing very unusual or surprising here, but it doesn't sound old either. What is really unusual and rare, is that the four young sophisticated Brits didn't name the song something that's a literary reference! Announcing their return as "here comes the flashover" is pretty badass/cute, though. Good to have you back, guys!
Surfing the void
will be out sometimes this fall.
---
//// New Panda Bear: Tomboy
mp3:
Panda Bear - Tomboy
Person Pitch
was a dreamy sounding piece of sample patchwork, and it sounds like Panda Bear is continuing the same trend in this year's release. He's been playing a couple of solo shows the last month, presenting a lot of new material. Unfortunaly there are no studio versions available yet, but I'm sure they'll start surfacing soon, with the album only four months away from release. For now, enjoy this live version of the album's title track!
Tomboy
is out September 2010.