This is way overdue, but here goes: My favorite ten albums from the first half of 2009! (January 1st to June 30th) I originally compiled my top ten list in July, and drafted this entry for Esoteric Mumblings, but I never got the time to finish and post it. It's still 4 months until I can post my "albums of the year" top list, though, so I guess it's still not too late to finally post this? I'll start at the bottom and post three albums for now:
10. The Pains of Being Pure at Heart - The Pains of Being Pure at Heart
The Pains of Being Pure at Heart, and their entire debut album, sounds like it isn't from the turn of the first decade-change in the new millennium, but rather like something from the late 80s - early 90s decade turn. It's pleasant, sweet music that it's hard not to fall for for, and you can read more about them in
tbomb's post
.
9. Röyksopp - Junior
Download:
Röyksopp - Miss it So Much
With
Junior
, Norwegian electronica duo Röyksopp continue where they left off on their last (and second) LP,
The Understanding
(2005): vocal-intensive, radio and dancefloor friendly electronica-pop. Anyone dreaming of a return to the modest, café friendly chill-out style of their 2002 debut album and definite masterpiece
Melody A.M.
will be disappointed, but everyone else will be thrilled to hear another bouquet of innovative pop songs made by these very skilled song writers and producers. While the first track, "Happy Up Here", sounds a bit too much like a radio hit label executives ordered Röyksopp to write (with the plead "make another 'Eple', please!"), the rest of the album is quite innovative and full of gems, my personal favorites being "You Don't Have a Clue" and "Miss It So Much". The latter features vocals by Swedish Lykke Li, an artist I personally think made one of 2008's very best debut albums. Lykke Li on Röyksopp's
Junior
for the first time voluntarily adds her vocals to electronica music, after having had her debut album remixed by about every bloghouse/electro DJ in the world last year (including the excellent Fred Falke remix, one of my definitive favorite dance tracks of 2008). Good to see she realized herself how well her voice works for dance music - I hope she'll collaborate with Röyksopp again in the future!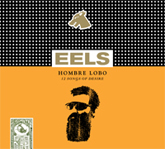 8. Eels - Hombre Lobo (12 songs of desire)
Download:
Eels - That Look You Give That Way
After his "epic" two-disc LP
Blinking Lights and Other Revelations
(2005), Mark Oliver "E" Everett wrote a autobiography and was involved in making a documentary film about his late father Hugh Everett, the hugely influential quantum physicist. Now, after four years, he's finally back in the world of rock, making music! Possibly as a reaction to "heaviness" of his two-disc emotionally loaded epic and the highly esoteric world of quantum physics,
Hombre Lobo
is a very straightforward rock and roll album. No heart-crushing piano numbers, so spilling out of his guts or his lifestory, just small down-to-earth songs about every day life, and about feeling alone and wanting a girlfriend. And about desire. E howls like a wolf, screams for "fresh blood" and tries to "rock out" in his desire-filled werewolf alter ego, but once again the geek icon is the best when he instead shows his introverted, shy side: the beautiful "That Look You Give That Guy" is in my opinion the album's best (it's also the quietest, by far). A cute little song about watching your secret love from a distance, as she's walking happy with her boyfriend, wishing you could "be that guy instead of me".