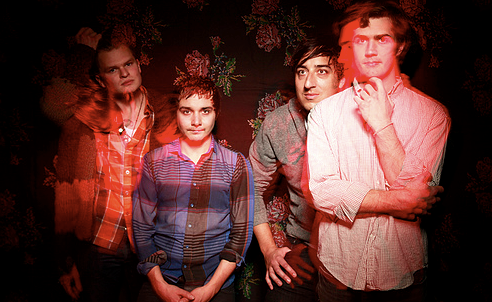 mp3:
of Montreal - I Was A Landscape In Your Dream (Grizzly Bear remix)
mp3:
Grizzly Bear - Boy From School (Hot Chip cover)
It's winter again, it's starting to get ridiculously cold again, and once again I'm turning to Grizzly Bear. Where I live, it's been creeping down to 3.2 degrees Fahrenheit / minus 16 degrees Celcius recently, and most of all I just feel like crawling down into some warm place and hibernate until spring, bear style. Since I'm not able to do that, however, turning to the slow and warming sounds of the four Brooklyn bears once more is a good second option.
You've probably all heard the band's three studio albums that are playing on repeat on my speakers these days, but I thought I'd share two rarer tracks with you today. Both are Grizzly Bear doing beautiful interpretations of songs by two of my other favorite bands. In the first, they turn one of the most easily overlooked tracks from of Montreal's most overlooked album into an amazingly atmospheric and layered little beauty, perfectly juxtaposing the soft Barnes vocals of the minimalist original with lush Grizzly Bear-esque soundscapes. In the second, they turn one of Hot Chip's very best, the electronic and synth-driven - and strangely uplifting - Boy From School, into a melancholic and mostly acoustic piece that relies almost exclusively on the beautiful and strong vocals, rather than electronic beat.
Hope you'll enjoy them! And continue to enjoy (or perhaps even
discover
or
rediscover
?) Grizzly Bear.