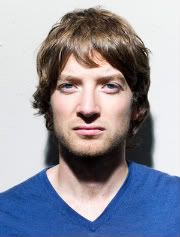 mp3:
Uusi Fantasia feat. Eirik Bøe - Barefoot not Naked
My favorite musicians from Finland, electronica trio Uusi Fantasia, recently finally realeased a long overdue follow-up to their fantastic (and brutally underappreciated) 2004 debut
Top Ten
. The new album is titled
Heimo
and came out last month. Just like the debut album it's filled with chillout / jazz inspired electronica, but with a few more radio friendly and poppish tracks this time around. One of my favorite tracks is 'Barefoot Not Naked', a collaboration featuring Kings of Convenience's Eirik Glambæk Bøe. A long time friend of Uusi Fantasia, Bøe adds both his soft vocals and his characteristic acoustic guitar play to the track, which ends up as the best (but also only) Norwegian-Finnish song I've heard to date. The voice of Kings of Convenience's Erlend Øye worked really well with Röyksopp's chillout electronica classic
Melody AM
(2001), and bandmate Bøe suits the similar-sounding Uusi Fantasia landscape perfectly as well. (Check out Bøe's appearance on Cornelius' 2006 album
Sensuous
for another example of how well his vocals go with chillout electronica).