My Top 25 albums of 2010:
#20 - #16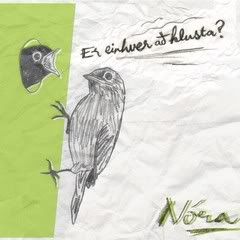 20. Nóra - Er Einhver Að Hlusta?
//Country:
Iceland
//Favorite tracks:
Opin Fyrir Morði, Sjónskekkja, Skóflaðu Mér
Nóra's five multi-instrumentalists don't only play an impressive amount of different instruments on their debut album, they also wander through an impressively large number of styles. The male vocalist Egill and the female vocalist, his sister Auður, take us through ambitious Arcade Fire-style theatrical-sounding indie, Belle and Sebastian-sounding modest twee, a dark Radiohead-esque song, Nordic folk music and more through the album's fifty minutes of playful Icelandic pop. Download one of my favorite songs now:
mp3:
Nóra - Opin Fyrir Morði19. Hot Chip - One Life Stand
//Country:
UK
//Favorite tracks:
Take It In, One Life Stand
While I feel that Hot Chip's latest effort in some was a disappointment compared to 2008's amazing
Made In The Dark
, it is still one of the albums I enjoyed the most this year. When the band released 'One Life Stand' as a preview track in late 2010, I got really hyped - while the track name surely is dorky, and the lyrics as well, they're both so incredibly and unresitably sweet. Hot Chip's short, geeky and shy front figure Alexis Taylor has always seemed like a major romantic to me. When I worked as backstage crew at a Hot Chip concert once, my suspicions were confirmed: I didn't find a wrecked backstage area afterwards, and no signs of wild partying with the local groupies - I found a clean and tidy room with a neat table with nothing to dispose of but a few burnt-out candles, as Taylor apparently had spent a romantic and relaxing evening backstage with his wife, who he of course had brought along abroad.
The whole album is chock full of warm declarations of love the title track's, but at the first listen, I didn't find any tracks that could match the title track's brilliance - until I reached the very end. After a few less convincing tracks, the album ends on the ingenious 'Take It In' - which is not only perfect album closer, but in my opinion also possibly the best song in Hot Chip's entire career. I continued listening to the album, and it grew on me more and more through time. After almost a whole year constantly on my iPod, 'Take It In' still feels as powerful, as fresh and as perfect as when I first heard it. Download it now, and you'll see what I'm talking about:
mp3:
Hot Chip - Take It In.18. Two Door Cinema Club - Tourist History
//Country:
UK
//Favorite tracks:
Something Good Can Work, I Can Talk, Eat That up, It's Good for You
Uncomplicated, danceable and uplifting indie rock that any fan of bands like Phoenix, The Wombats or early Bloc Party will appreciate.
Read more
, or just watch the video below :
17. Holy Fuck - Latin
//Country:
Canada
//Favorite tracks:
Red Lights, Silva & Grimes, Latin America
Holy Fuck is lo-fi electronic music with no programmed elements, that feels like some sort of danceable electronic post-rock.
Latin
's their third album, and possibly their most intense one yet.
Read more
, or just check out the epic video for 'Latin America' below, which includes live footage, a video diary of the band exploring Japan, and very sweet lightning and color effects:
16. Seabear - We Built A Fire
//Country:
Iceland
//Favorite tracks:
I'll Build You A Fire, In Winter's Eyes, Wolfboy
The Icelandic folk-ish indie poppers return with a sophomore album that mostly revisits the themes, moods and soundscapes of the first. But on some tracks, electric guitars and drums are given a bigger presence than on the very acoustic first album. To me, this has been the perfect album for slow and relaxing Saturday/Sunday mornings, and it's filled with charming and soothing songs that are impossible to dislike. Seabear should be checked out by any fan of fellow countrymen múm's later and more poppy albums. Check out the colorful and beautiful little video for 'I'll Build You a Fire':