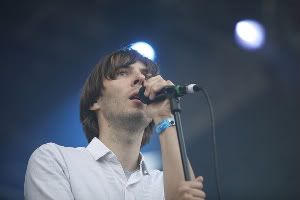 Phoenix's
Wolfang Amadeus Phoenix
was in my opinion one of the best releases of 2009, and I'm still coming back to some of its most unforgettable tracks (my favorites being the two opening tracks, the two "Sunset" tracks and "Armistice") almost on a weekly basis, almost a year after I first started listening to it.
Phoenix have now been generous enough to offer a
free live EP for download
on their website, with live performances of no less than eight
Wolfang Amadeus Phoenix
songs recorded in Sidney, Australia. The album is packed with great tracks, and it's great to get to hear some different takes of them. If you're looking for more alternate versions of WAP songs, here are my favorite remixes of tracks from the album:
The Rome remix is my favorite of the bunch – it's a truly unique remix that really adds something special to the song. If the original and its lyrics didn't touch and move you, the remix most definitely will. How many remixes can you say the same thing about? A close second favorite is Classixx' take on Lisztomania, though - the remix geniuses once again manage to take an extremely danceable song and make it
even more
danceable. The Yacht and Animal Collective remixes are great too - with so much personal touch that these Phoenix songs end up actually sounding like Yacht and Animal Collective tracks with Thomas Mars vocals.