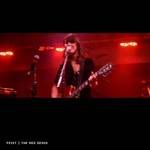 Keeping it simple. This is Feist's Red Sessions.
1.
Intuition
2.
Leisure Suit
3.
Mushaboom
4.
The Eastern Shore
After her 1999 debut album,
Monarch
, Canadian indie singer/songwriter Feist recorded the four-track
The Red Demos
(2003), which in my opinion are four of the very best songs of her whole career. Each of these four songs changed shape numerous times and evolved gradually through the years, finally becoming hit songs on her future LPs. "Leisure Suit" and "Mushaboom" became some of the best songs on her sophomore LP
Let It Die
(2004), while "The Eastern Shore" changed name to "The Water" and appeared alongside "Intuition" on her third album
The Reminder
(2007).
The Red Demos
is definitely worth checking out for any Feist fan, even if just to see how these popular songs started out, or to hear some of her newer songs in what basically sounds like a
Monach
-style arrangement. Personally, I much prefer this early version of "Intuition" to the version she realesed on
The Reminder
four years later – the latter honestly just sounds like it has been worked on for too long, losing the straightforward beauty and simplicity of the tune. In fact, the original "Intuition" is possibly my favorite Feist track of all time – check it out for yourself and see what you think!